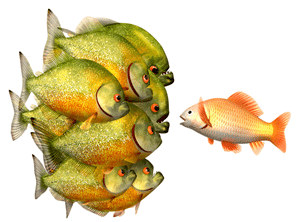 Who is this for?
Junior to Mid-Level employees in multi-national organisations. They have many stakeholders with varying and frequently changing demands, and it can be difficult to satisfy everyone. As they lack authority, they need a strategic approach to both managing these often conflicting demands, and to influencing and persuading a range of different people.
What will they learn?
This course is split into two main sections, Analysis and Impacting.
In the Analysis section we look at a variety of techniques to help us gain greater clarity on the influencing challenges we are faced with. In the modern working world, work is complex, there are multiple stakeholders and the nature of the challenge is always changing. So we look at how to clarify our goals for influencing. We look at how to prioritise our stakeholders so we can be more focussed in our approach to influencing. We also look at how to analyse their needs and drivers, as well as the power and resources we have at our disposal, to help us clarify what we're working with. And through this analysis we can move to the next section with greater focus.
The Impacting section is all about vital skills and techniques we can use to create an impact on people. We look at questioning and listening, adapting to different personalities, explaining clearly, using story telling and so on.
How is this different to other courses?
All content is condensed into memorable and usable tools. These make the content easier to remember and use after the training. This way, you don't have to worry about trainees remembering things, all they need to do is start using these tools and they will be directly applying the training to their work.
This course uses their own case studies
One optional benefit is a personalised DISC assessment. This will help each individual identify their DISC style, as well as provide them with lots of tips and insights on how to become more adaptable.
What are the benefits?
After this course, trainees will be able to:
Select goal setting techniques that are appropriate to the unique challenges they face
Prioritise which people to focus most influencing efforts on when working with a range of different stakeholders
Identify other people's needs and use these insights to customise influencing strategies to different people
Identify the influencing resources and strategies they have available
Use Questioning and Listening techniques to identify people's needs
Build rapport with and adapt working style to different personality types
Explain things in a logical manner and use storytelling techniques to engage people more in explanations
Use a variety of different persuasion techniques
Agenda:
Day 1 Morning:
Setting Influencing Goals
Stakeholder Analysis
Needs and Drivers
Day 1 Afternoon:
Leverage Power Resources
Influencing Essentials
Questioning and Listening
Day 2 Morning:
Adapting to Different Working Styles
Day 2 Afternoon:
Explaining Clearly
The 6 Weapons of Persuasion
Modules:
Setting Influencing Goals
Objective:
Select a goal setting technique appropriate to their influencing case study and use it to set their influencing goals
Contents:
The need for clarifying our influencing situation
The different goal setting techniques, their advantages and disadvantages and when to use them:

KFC (Know Feel Commit to)
Stakeholder Analysis
Objective:
Referring to their own case study, use the Influence and Interest tool to identify all relevant stakeholders, categorise and prioritise them, and summarise the most appropriate ways to communicate with each one
Contents:
Defining and identifying stakeholders
Introduction to the Influence and Interest tool
Using the Influence and Interest tool to categorise stakeholders
Selecting appropriate communication strategies for each different category of stakeholder
Needs and Drivers
Objective:
Identify their key stakeholders needs and drivers and suggest strategies for appealing to these
Contents:
Rational and Emotional Needs and how to identify them
The Five Categorise of drivers:
Recognising people's values and how these affect their behaviour
Leveraging Power Resources
Objective:
Identify the power resources available to them and formulate strategies for using these to influence others
Contents:
Introduction to power
Power resources for building compliance:
Power resources for building commitment:
Case studies of people who have successfully developed power and leveraged it for influence
Influencing People's Behaviour
Objective:
Use The Elephant and Rider metaphor to explain behavioural problems in the case studies provided as well as examples they have encountered at work
Use BJ Fogg's Behaviour Model to formulate strategies for influencing people's behaviour in the case studies provided
Contents:
The Elephant and Rider Metaphor for understanding why people behave the way they do

The Rider needs direction, The Elephant needs motivation and both need a supportive environment

The difference between motivation and will power

Aligning Direction and Motivation for effective behaviour change

BJ Fogg's Behaviour Model

Understanding how will power fluctuates throughout the day

Affecting the simplicity of tasks

Using the three different Triggers to initiate behaviour change
Questioning and Listening
Objective:
Demonstrate competence in the questioning and listening skills covered in this module during a role play with a partner
Contents:
The 4 levels of listening:
Using the Funnelling questioning technique to identify and clarify other peoples needs
Adapting to Different Working Styles
Objective:
Use the DISC Model to identify one's own working preferences and list the strengths and weaknesses of that preference
Formulate strategies for adapting one's working style to the different DISC styles in their team
Contents:
Introduction to Working Preferences
The DISC Model
Self-assessment to identify one's own DISC style
Group discussion to identify strategies for working more effectively together
Individual planning for adapting working and management style to one's own team members
The Logic of Explanation
Objective:
Use the Logical Explanation Template to prepare an important message that they must deliver at work
Contents:
The Why, What, How Scale
Analysing the other person on the Why, What, How Scale
Starting an explanation with agreement to build context
Referring to problems the other person cares about to build interest
Presenting your idea as a solution to their problem
Minimising information overload by sticking to 1-3 key points
Motivating the other person by describing benefits and simple next steps
Turning facts and data into stories
Making explanations vivid by connecting with the 5 senses
Using analogies to make new information easier to understand
Story structures
The 6 Weapons of Persuasion
Objective:
Select the most appropriate Weapon of Persuasion for their case study and formulate a strategy for using it to successfully influence another person
Contents:
An overview of the 6 Weapons of Persuasion from Robert Cialdini's book 'Influence – The Psychology of Persuasion':

Commitment and Consistency

Famous example that demonstrate how the 6 weapons work