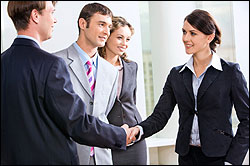 Business Etiquette Essentials – 1 Day Seminar
There is nothing more lasting than the first impression. How can you navigate the turbulent waters of a multicultural corporate environment? What are the pitfalls to avoid? How can you improve your current corporate relationships? Attending this 1-day seminar is essential for taking the right steps to improving business etiquette and making a powerful and professional impression every time.
Course Content
THE IMPORTANCE OF PROFESSIONAL BUSINESS BEHAVIOR
Building better business relationships
Presenting a positive image
Exercise
Why work relationships are so important
THE BASICS OF CORPORATE CULTURE: EXPECTATIONS
Confidence
Competence
Credibility
Exercise
ARE YOU REALLY JUDGED BY HOW YOU LOOK?
Specifics on neatness and cleanliness: Laborers & Office workers
Shoe issues
Jewelry
Grooming: Beards & hairdo's
What does the expression on your face say?
DRESSING FOR SUCCESS
The history of business attire
How to interpret the term business casual: Setting the standard
Fashion and function: Clothing that works
THE SPECIFICS OF BUSINESS DRESS
Business casual
Tips for men
Tips for women
Formal wear
MEET AND GREET
First impressions
Handshakes and mannerisms
Considering local customs
Having the right tools to be successful
Body language
Introductions
Who introduces to whom?
What information to give
Forgetting names
Making conversation
The formula that never fails
What to avoid
Good topics
The fine art of saying goodbye
ETIQUETTE AT BUSINESS FUNCTIONS
Formal dining: The fine art of sitting down
Napkins and utensils
Soup issues
Banquettes
What to order
Buffet strategies
Business dinning tips
The mission of the meal
When to pay
The top five things you need to know