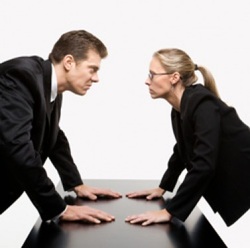 Conflicts can be hard. We get so emotional that sometimes we feel we can't take it at all. Not so surprisingly most people want to avoid conflicts altogether. So, what should we do when we are in a conflict? Conflicts have a tendency to escalate when untreated, they can make the environment toxic and unproductive and eventually the conflict may come to control you rather you controlling it. However, did you know that conflicts can be good for your organization and management team? Learn the skills of conflict resolution and how this will contribute to a better team.
What is Conflict?
How conflicts evolve?
What is good or bad about conflicts?
What is the life cycle of conflicts?
How conflicts escalate?
What can you learn from Game Theory to manage conflicts?
How to Handle Conflicts?
How many different ways can you approach a conflict and what are their advantages and disadvantages?
How to systematically analyse conflicts based on the benefits to you or the other party and how to use this knowledge to resolve them?
How to decline a request while avoiding conflicts?
What is an effective conflict resolution process?
How to use a 6-step conflict resolution formula?
How to Manage Emotions?
How emotions affect discussions?
How to avoid emotional decision making?
How to use anger management in resolving conflicts?
Learn about a series of psychological tactics used in conflicts and know how to respond to them when used on you, or exploit them yourself.
What are the 15 main causes of conflicts?
How to Respond to Escalating Situations?
What approaches are used in a discussion to win the conflict?
How to respond to such approaches when used on you?
Learn how to react to arrogance, vague statements, personality attacks, exaggerations and many other commonly used tactics in conflict.
How to Negotiate?
How to negotiate effectively to get to a win/win outcome?
What is Principled Negotiation?
What is Organisational Conflict and what are the 6 ways you can use to manage it?
How can you use well established negotiation strategies to resolve conflicts?
How can you use third-party intervention and what types are available?
How to Prevent Conflicts?
What systems should be put in place in organisations to prevent destructive conflicts?
What resources do you need to manage conflicts efficiently?
What kind of third-party interventions exist and how can you use them to resolve conflict?